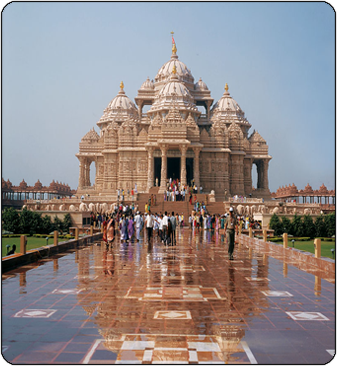 Akshardham Temple
Akshardham, Delhi Akshardham or Swaminarayan Akshardham is a hindu temple complex in Delhi, India. The temple is situated on the bank of river Yamuna. The temple displays the soul of Indian culture, civilization, traditions and spirituality. On 17th december 2007, guinness world record was presented to Pramukh Swami Maharaj, spiritual leader of Bochasanwasi Shri Akshar Purushottam Swaminarayan Sanstha (BAPS) for Akshardham as the world's largest comprehensive hindu temple.
The complex was planned by Yogiji Maharaj since 1968, the spiritual head of the BAPS at that time. In 1971, Yogiji Maharaj died. In 1982, Pramukh Swami Maharaj, successor of Yogiji Maharaj as spiritual head of BAPS, started working towards fulfilling the dream of his guru and encouraged his devotees to look into the possibility of building the complex in Delhi. Pramukh Swami Maharaj, the 83 year old spiritual leader has over 11 lakh followers across the globe. In april 2000, the Delhi Development Authority and Uttar Pradesh government offered 60 acres and 30 acres of land for the project respectively. Construction work of temple began on 8th november 2000 and temple was officially opened on 6 november 2005. "
The construction work was completed in 4 years and 363 days. Over 6,000 tons of pink sandstone was brought from Rajasthan. The cost of construction of temple was 400 crores. Pramukh Swami Maharaj's 3,000 volunteers helped 7,000 craftmans to construct the temple.The temple was inaugurated by then president of India Dr. A.P.J Abdul Kalam, prime minister of India Mr. Manmohan Singh and leader of opposition Mr. L.K Advani in the presence of 25,000 guests on 6th november 2005.
The main monument at the centre of complex is built according to vastu shasthra and pancharatra shasthra. The monument is 141 foot high, 316 foot wide and 370 foot long and is covered top to bottom with engraved details of flora, fauna, dancers, and deities. In the monument, under the central dome lies a statue of Swaminarayan which is 11 foot high and made up of paanch daatu in accordance with hindu tradition. The other attractions of complex are three exhibition halls. The halls are sahajanand darshan, neelkanth darsdhan and sanskruti vihar. At sahajanand darshan, life of swaminarayan is displayed by robotics. The neelkanth darsdhan has a huge I-max theatre screening movie based on the life of lord and finally sanskruthi vihar takes visitors on a journey of Indian history in approximately 13 minutes in peacock shaped boats. Akshardham has become a place of education, experience and enlightment.
How To Reach:-
From NewDelhi Railway Station :-
Akshardham is about 10 km from here.You should come out of the Railway station from Platform No.12 Side ( Not by Platform NO.1) ; About Rs.100 by Auto Rickshaw.
From Nizamuddin Raliway Station :-
It is about 4 KM . you can go by auto rickshaw or prepaid taxi. They will charge you around Rs.100
Nearest Metro Station:-
Akshardham Metro Station