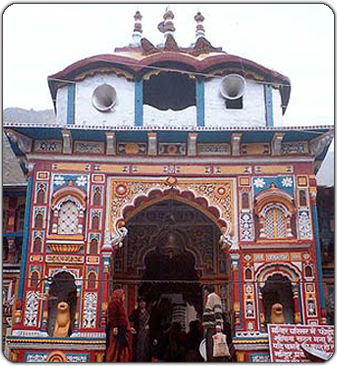 Badrinath ji
Skanda Puran gives an account of Adiguru Shankracharya re-enshrined the idol of Lord Badrivishal.
Adiguru was climbing to a place called Ashthakhand for meditation. An akashvani said to him "O Shankar, the thing you want to attain through meditation can be attained by you, by re-enshrining the idol of Lord Vishnu. This idol is lying as sleep in Narada Kund. Avail of this opportunity and be blessed for having done so."
In pursuance of these divine orders Adiguru dived into the Narada kund and recovered the idol of Lord Vishnu which he duly re-enshrined and sri Badrinathji were established. Adiguru Shankracharya meditated at Jyotirmath where he attained the divine light jyoti. It is now widely believed and sequence of incidents lead to conclude that Jyotirmath alone is the Ashtakhand and divine light Jyoti attained is termed as Akashvani.
Sri Badrinath Dham is situated on the bank of river Alaknanda. Over the valley, two mounts named Nara and Narayana parvats stand on both sides of Alaknanda. Sri Badrinath temple is on the lap of Narayana Parvat with resplendent Neelkanth in the background. Alaknanda flows through the courtyard of Lord Badrinath shrine.
Historical evidences are not available as to the age of the shrine. Temple of Sri Badrinath ji was a popular shrine during the Vedic age. Lord is seated here in Padmasan posture which was also a common form of Bodhisatva in budhist culture. There are different views on the situation as how the idol was lying in the Narada kund.
One popular belief is that with the expansion of budhism, the temple of Sri Badrinath ji was also converted into a budhist temple and idol was thrown by these budhists into Narada kund. However this does not answer the question as how the lord is seated in Padmasan posture rather than usual Vishnu iconography.
Darshan of Lord Badrinath ji
The main entrance gate of the shrine is colourful and imposing. it is popularly known asSinghdwar. The temple has two parts. The Garbhagriha where the deity is seated and theMandapam for the pilgrims to assemble for Darshanam. Darsan of Lord Badrinathji is available to pilgrims from the Sabha mandap all the time the temple is open.
Darshan
Morning Darsan- opens 4:30 A. M. with Shubh Prabhatam and close at 1 P.M.
Afternoon Darshan- Opens at 4 P.M. and closes at 9 P.M. after the divine song "Geet govind".
How to Reach
By Train- Nearest railway station at Reshikesh and Kotdwar, which are connected with major cities of India.
By Road-Delhi to Reshikesh:287 km by train and 238 km by road.
By Air- Nearest Airport at JollyGrant(Dehradun)
Accommodation
Char dham hotels, char dham package-Many Hotels and Guest houses are available in Char Dham according to your budget.