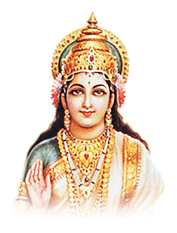 The Shakti Peethas (holy places of cosmic power) are places of worship consecrated to the goddess 'Shakti', the female principal of Hinduism and the main deity of the Shakta sect. They are sprinkled throughout the Indian subcontinent.
This goddess is often associated both with Gowri / Parvati, the benevolent goddess of harmony, marital felicity and longevity, with Durga, goddess of strength and valour, and with Mahakali, goddess of destruction of the evil.
Legend
According to legend, at some time in the Satya Yuga, Daksha performed a yagna (named Vrihaspati) with a desire of taking revenge on Lord Shiva. Daksha was angry because his daughter Sati had married the 'yogi' God Shiva against his wishes. Daksha invited all the deities to the yagna except for Shiva and Sati. The fact that she was not invited did not deter Sati from attending the yagna. She had expressed her desire to attend to Shiva who had tried his best to dissuade her from going. Shiva eventually allowed her to go escorted by his ganas.
But Sati, being an uninvited guest, was not given any respect. Furthermore, Daksha insulted Shiva. Sati was unable to bear her father's insults toward her husband, so she committed suicide by jumping into the yagna fire.
When Lord Shiva heard about her death he became furious. He went to the place where Daksha was performing his oblation, along with his ganas(followers). The oblation site was destroyed and Daksha was killed by his ganas .