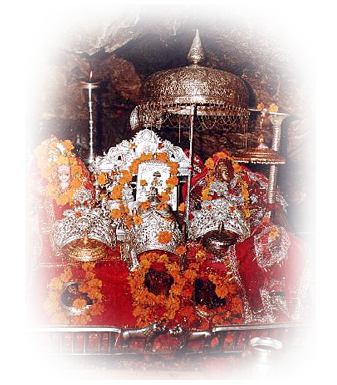 Vaishno Devi
Indian Spiritual tradition has propounded four Purusharth (objectives) of a human life. These being Dharm (Righteousness), Arth (Material Pursuits), Kaam (Contentment) and Moksh (Enlightenment). Shri Mata Vaishno Devi is believed to grant all the four boons to those who visit Her Holy Shrine. She is considered to fulfill anything and everything that a person wishes for in life, in a righteous way. It is an experience of all, that no one goes empty handed from Her Great Pilgrimage.
The journey to the Holy Shrine of Mata Vaishno Devi is thus an enchanting journey of the places where Mata Vaishnavi had spent some time while observing various spiritual disciplines and penances. The culmination of this journey is at the Holy Cave where She merged Her Human form with the astral form of Her creators, the three Supreme Energies
Maa Vaishno Devi Shrine
A pilgrimage to the Holy Shrine of Shri Mata Vaishno Devi Ji is considered to be one of the holiest pilgrimages of our times. Popular the world over as Moonh Maangi Muradein Poori Karne Wali Mata, which means, the Mother who fulfills whatever Her children wish for, Shri Mata Vaishno Devi Ji resides in a Holy Cave located in the folds of the three peaked mountain named Trikuta (pronounced as Trikoot). The Holy Cave attracts millions of devotees every year. In fact, the number of Yatris visiting the Holy Shrine annually now exceeds 5 million. This is due to the unflinching faith of the devotees who throng the Shrine from all parts of India and abroad.