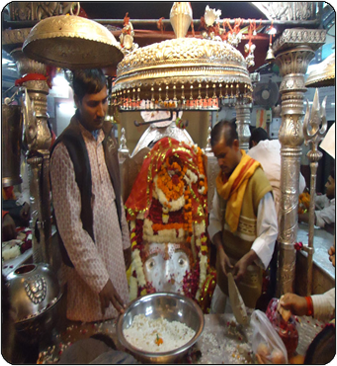 Kalka Ji Temple
Kalka Mandir or kalkaji Temple is a famous and highly respected Hindu Mandir. The temple is dedicated to Hindu goddess Kali who is avatar of Maa Durga. Kalka Mandir situated in South Delhi, near Lotus Temple. It is one of Delhi's major religious tourist attraction.
The temple was built in 1764 a.d, as per the folklore, the Pandavas and Kauravas had worshipped here. Later in the mid 19th century, Raja Kadarnath, the treasurer of emperor Akbar second made certain changes in temple. In the early 20th century, the present structure was built by the contributions of devotees. The modern temple is 8 sided structure made up of marble and black pumicle stones. The black stone denotes goddess kali..
Devotees attend the Kalkaji Temple throughout the year but the apex point of the celebration comes during the festival of Navratri. This is a nine day festival, during which a large fair is organized here.